Backed by some heavyweights of the healthy refreshment world (Red Bull, Jim Beam & Corona) and sponsored by yours truly (The Find, not myself) the action was brought to the (not so) mean streets of Queenstown this past weekend in the shape of the Parklife Invitational. A day of food, drink, Djs and some kick ass extreme sports action ensued.
The Remarks Terrain Park crew brought the snow and rails, the huge field of international riders brought the Freestyle Motocross demos and a rail jam, the crowd brought the noise and I brought a fashionable and impractical choice of footwear which the sodden underfoot turned into ruins.
With the weather threatening to push the event back to its reserve day of Sunday the hardworking crew continued to get the ramps and stage set up for our viewing pleasure. But the rain decided to stop at a perfect time to keep the action on schedule, as if the extreme sports gods had threatened mother nature to an after school beat down if the water continued to fall.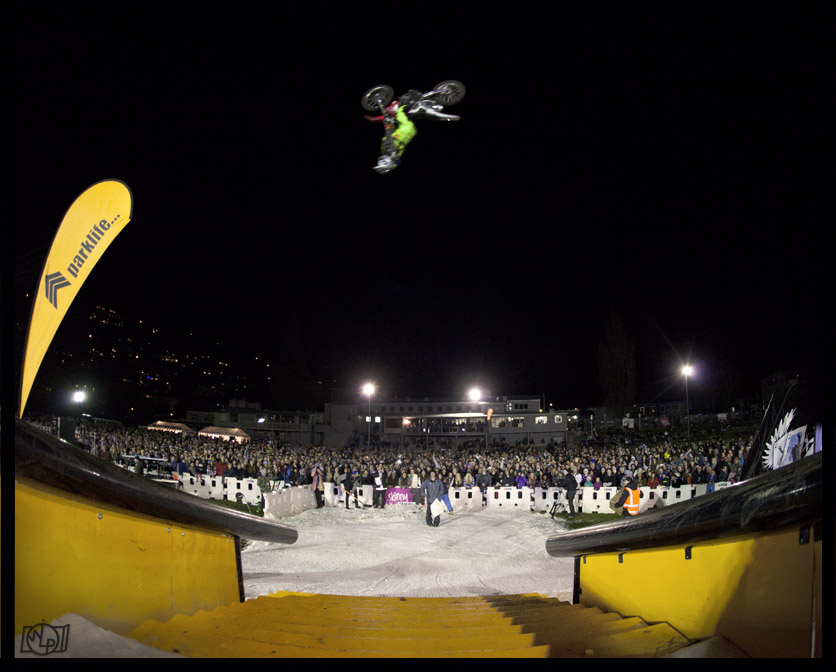 So to the action. Normally anyone flipping a 100kg dirt bike through the air or upside down would be subject to some sort of sobriety test, but not here. The FMX guys flew through the air with the greatest of ease, the engine revs and the crowds woops and hollas merging into a cacophony of celebration.
The adrenalin-fuelled, controlled mayhem continued with a fantastic field of guys and girls from the world over throwing down some superb tricks (and falls) on their boards and skis, hoping to win some serious cash prizes. With so many shredders around I was half expecting the Ninja Turtles to bust out of a manhole on Camp Street and take The Recreation Ground field by storm in a whirlwind of nunchucks and pizza. But with the artistry of Leonardo and sculpting themselves like a Michelangelo, the riders continued to display their skills to the delight of the crowd.
As if all that action wasn't enough, the good times kept rolling with the official Parklife after party here at The Find. You fans, event organisers and riders sure kept us busy, a fantastic blow out celebration that resulted in the busiest night since our grand opening. We hope you all had as much fun as us, we can't wait to do it all again next year!
Photos: Will Linstead